I recently acquired a new baby in my gadget collection and I'm quite happy with it. My boyfriend has 2 PS3's a Silver Phat and a Red Slim one (which he gifted to himself last Christmas).
Since he no longer uses his Phat he decided to hand over his old baby. We have this weird way of calling our gadgets.
I rearranged my room and put up a small gaming area. Refer to photo below to see what I mean.
Top to bottom: Nintendo Wii, old Nokia Xpress music phone, PS3 Phat, 22 inch Devant LCD TV and my Compaq laptop.
During our date last weekend , my man bought me a PSN card so I can install the full game of Mortal Kombat (my favorite fighting game). It would probably take 2-3 days of download before the game could install and I'm really so excited for that. Finally, Martin and I can play together online during weekdays.
What made my eyes twinkle and made me bite my lips last Saturday was when I saw a PINK PS3 controller at Data Blitz for two thousand plus pesos.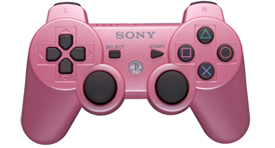 A little pricey but if I get to have/buy/receive (ahem) this, it IS totally worth it and will give it more loving. Hehe! According to the boyfriend, this is how I looked like when I saw it last weekend.
You will be mine soon~
In the mean time while Mortal Kombat is still downloading, I am currently hooked on Dungeon Hunter Alliance. What's great about the PS3 is that it is not only a gaming device but also for multi media purposes. Martin installed great movies and series for me to enjoy if in case I get bored – Thanks love~
In other news, I've been meaning to write about apps a month ago but did not have time to do so. I was very excited to hear that Temple Run will also be available for the Android, however it will only run on the Samsung Galaxy S and higher devices. Meaning it can't run on my run on my ACE. Another update that I'm also looking forward to is, Instagram for Android! There is no definite date yet but developers say that it is much better than the iOS version.
Till then!
Meow..Meow..